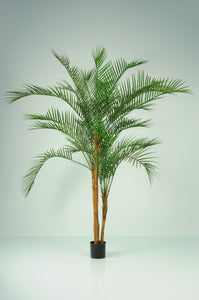 Available in 5ft and 7ft
Size : 5ft
Height : 150cm / 1.5cm
Width : 70cm / 0.7cm
Size : 7ft
Height : 210cm / 2.1m
Width : 110cm / 1.1m
This palm tree will totally fill an area due to the 3 x trunks and multi leaves on each trunk!
Now for the science bit!
The 3 x trunks are real wood (heated treated and fumigated) and the leaves are plastic, suitable for indoor use but can be used outdoors however not in windy situations as the leaves are so long.